‹ Go Back
MFC Styled Suite – Case Study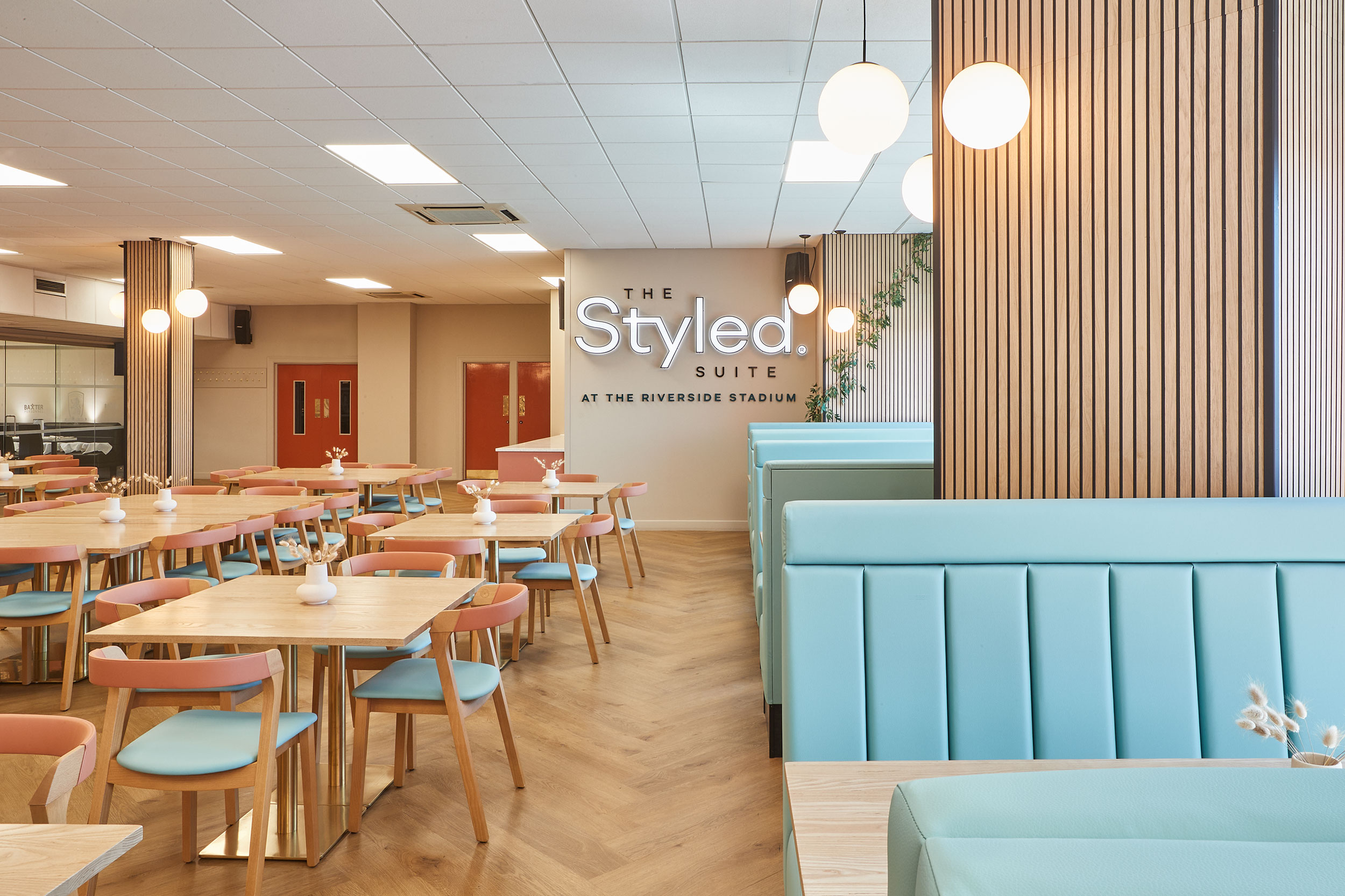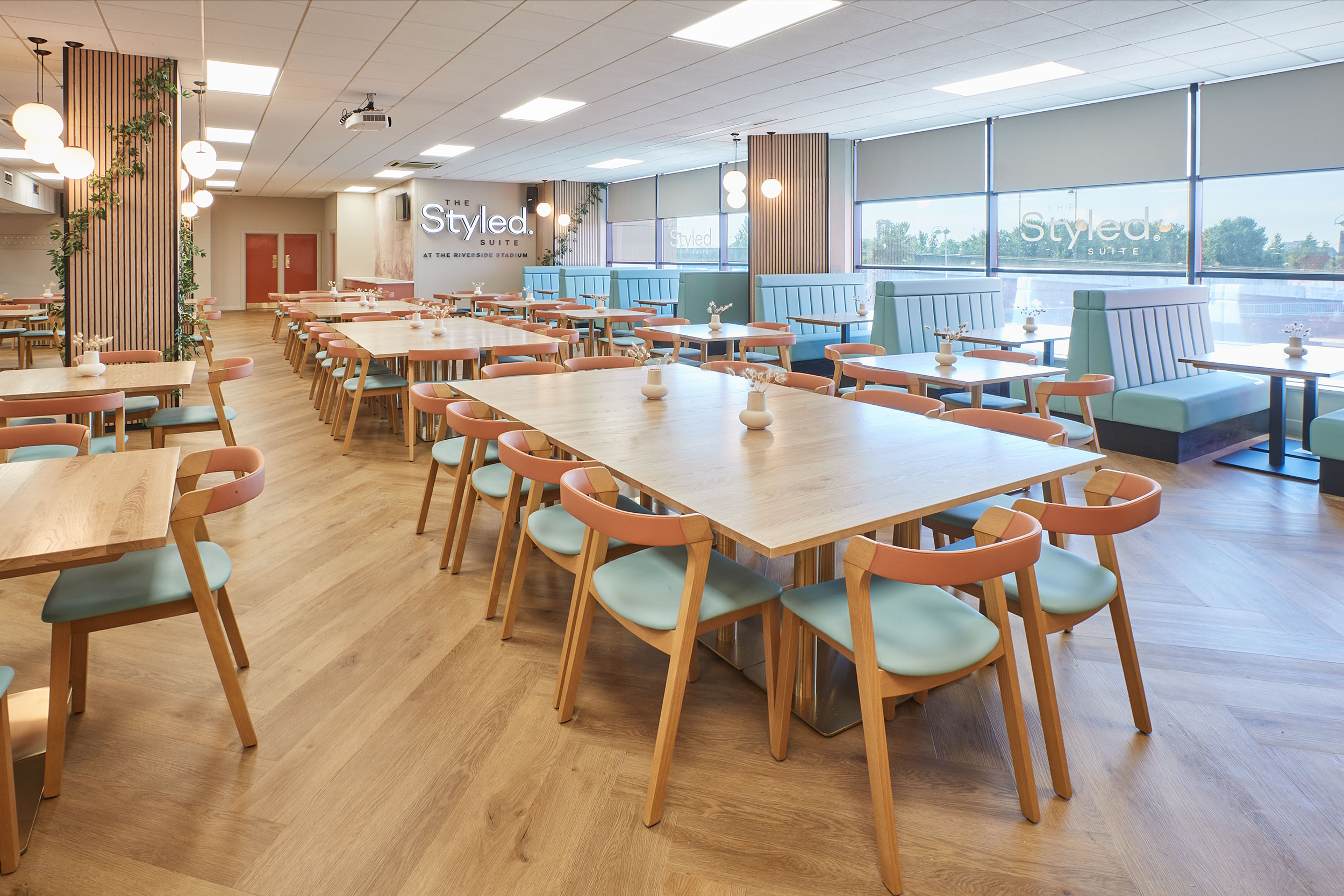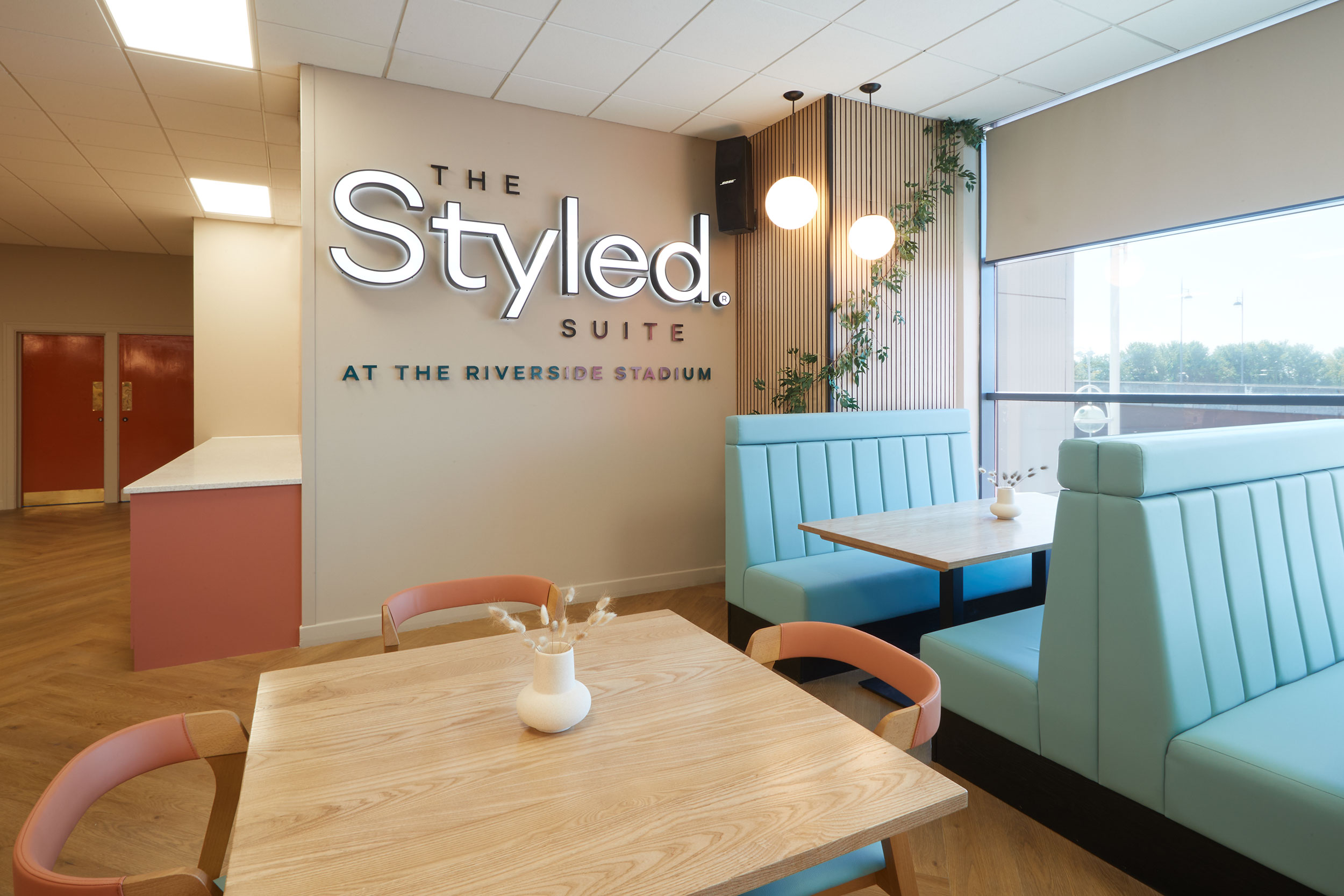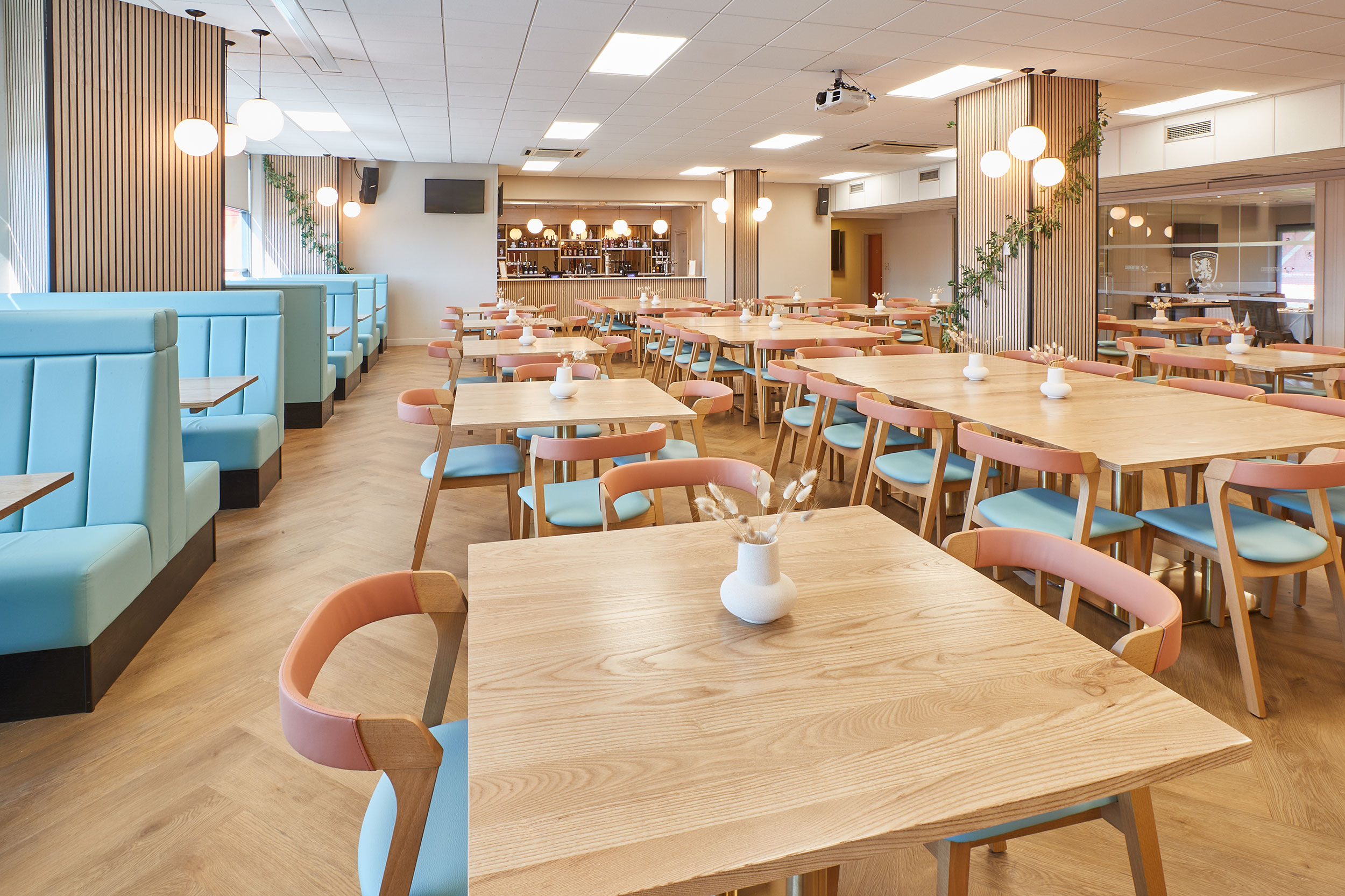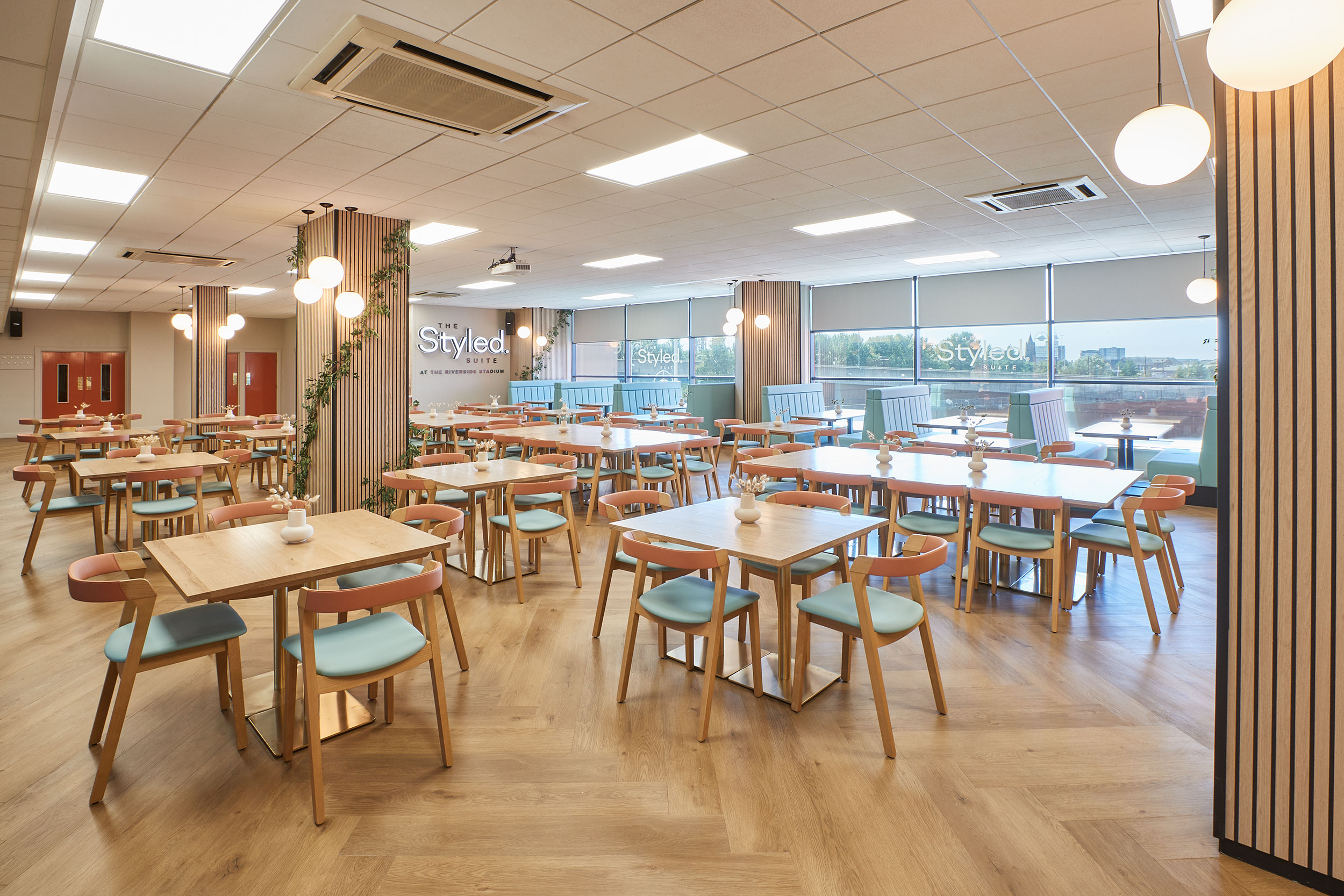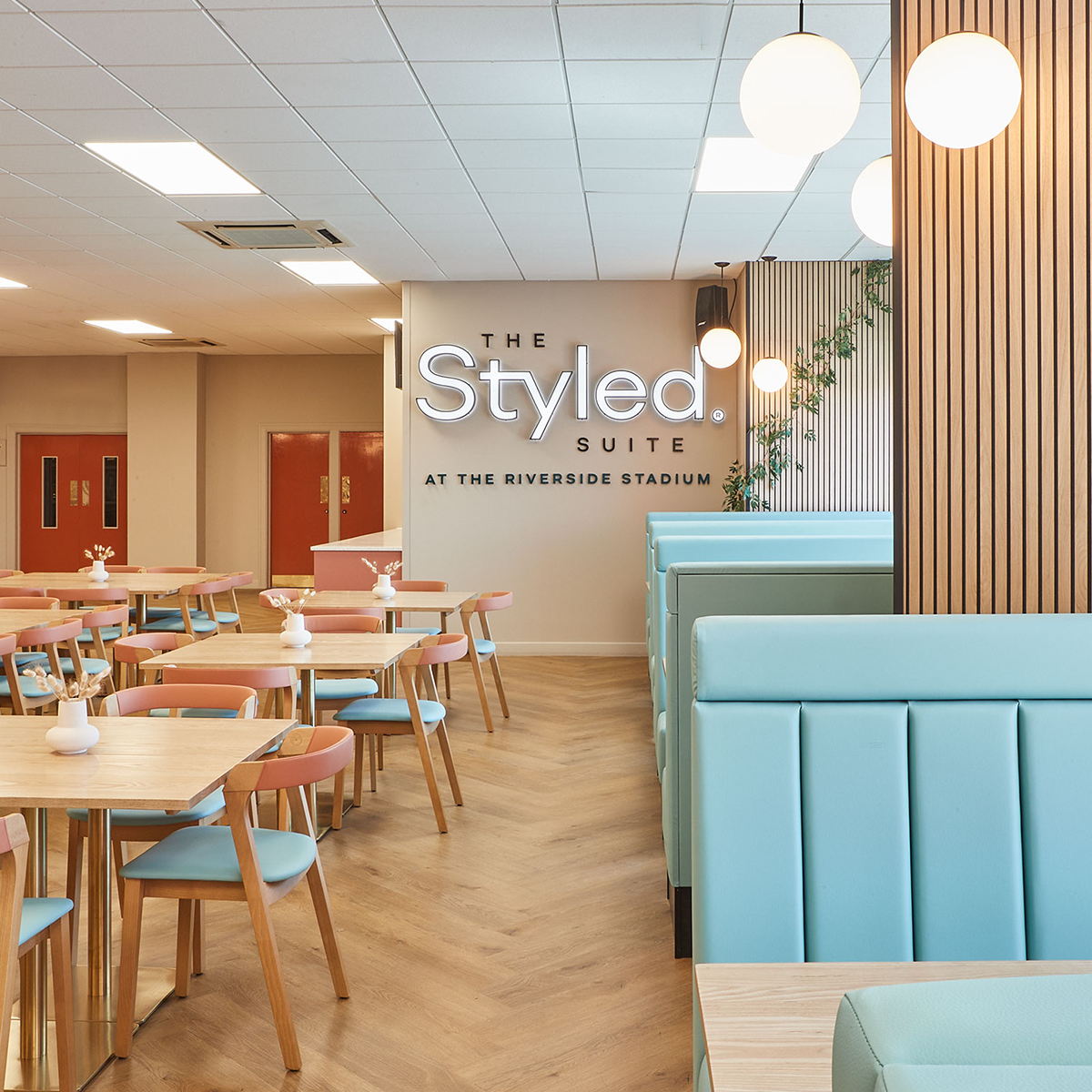 Swipe to scroll through the images.
The Brief
The brief was to create a space that is less club branded, that will help bring in new streams of revenue for the football club for a range of different events such as match days, wedding receptions and baby showers.
The Project
The previous suite was very dark, dated and heavily club branded, so we wanted to create something with a much lighter and more modern feel.
Our starting point was to replace the floor; getting rid of the dark carpet and replacing with a much more durable, herringbone effect LVT throughout the main suite and accompanying boxes. As our goal was to create a space that is adaptable to a range of different events, we opted for a lighter colour palette consisting of soft blues, greenery and accents of terracotta, which would be carried through into the furniture, wall murals and custom cabinetry.
To help create a more luxurious feel, we decided to add in some booth seating to make the most of the large windows in the suite, with bespoke seating in the same colour palette. All the furniture was made bespoke in order to maximise the space; this also allowed us much more creative freedom in choosing the smaller details such as wood finishes, fabric colours and how the overall space would tie together.
The bar area was also in desperate need of modernizing. We specified a whole new bar featuring custom built brass shelving for drinks and glassware with a bronzed mirrored wall, marble worktops and a cladded front. Pendant lighting above the bar ceiling area finished the look. We continued the cladding onto the large columns dotted throughout the space and added pendant lighting around alternate columns at varying heights, which instantly made the space feel more modern and ambient.
As this space was going to be used for a multitude of events, adaptability and space were key. Not only did the space still need to be used for match days, it had to appeal to new revenue streams such as wedding receptions and baby showers, so considering each and every detail was key. As the space is still heavily and primarily used for match days, we wanted to keep a nod to the club's branding in a more subtle way, which we achieved by adding accents of a soft red-terracotta shade throughout the backrests in the chairs, doors and custom cabinetry for the serving area. To soften this, we also added a soft blue shade to the space through the booth seating and seat cushions on the chairs, which would help the space appeal to other external events.
Ensuring there was enough space for not only guests to enjoy, but for the staff was another important consideration during the design process. Our client's biggest problem with the old suite was the lack of space when at full capacity. We decided the best way to tackle this was to use a variety of small and larger table sizes to make the most of each corner of the space. Through this, and adding the booth seating to the window area, we were able to create a space that didn't lose capacity on match days, but actually felt a lot bigger and had much more room for both staff and guests to enjoy.
Challenges
The deadline was incredibly tight on this. We had less than 8 weeks to complete this project, from the initial meeting with the client, to the finished product. As it was a commercial project, each piece of furniture had to be made bespoke to fit the space and meet set regulations. Getting the full design, FF&E and procurement completed within this time was already a tight turnaround, however finding suppliers who could actually create and deliver these items within the timeframe as well added another layer of complexity to the job.
We had to find new suppliers who not only supplied our chosen products but could also turn them around within the given timeframe. Our subcontracts created a lot of the joinery bespoke, rather than buying these off the shelf – this allowed us some element of control in terms of ensuring each detail was correct and completed on time, rather than relying on couriers and manufacturers.
The Result
We created a space that is adaptable for a range of events including match days, baby showers and wedding receptions to allow the club to bring in new streams of revenue. Moving away from club-branded colours and instead creating a modern and welcoming space for guests.
The overall space works well for large groups of guests on match days and can be reconfigured to create different spatial layouts and table arrangements to fulfil the needs of specific events. It will help the club attract new sources of income from these external events which allows them to re-invest these additional revenue streams back into the club and create more spaces like this.