‹ Go Back
MFC Legends Lounge – Case Study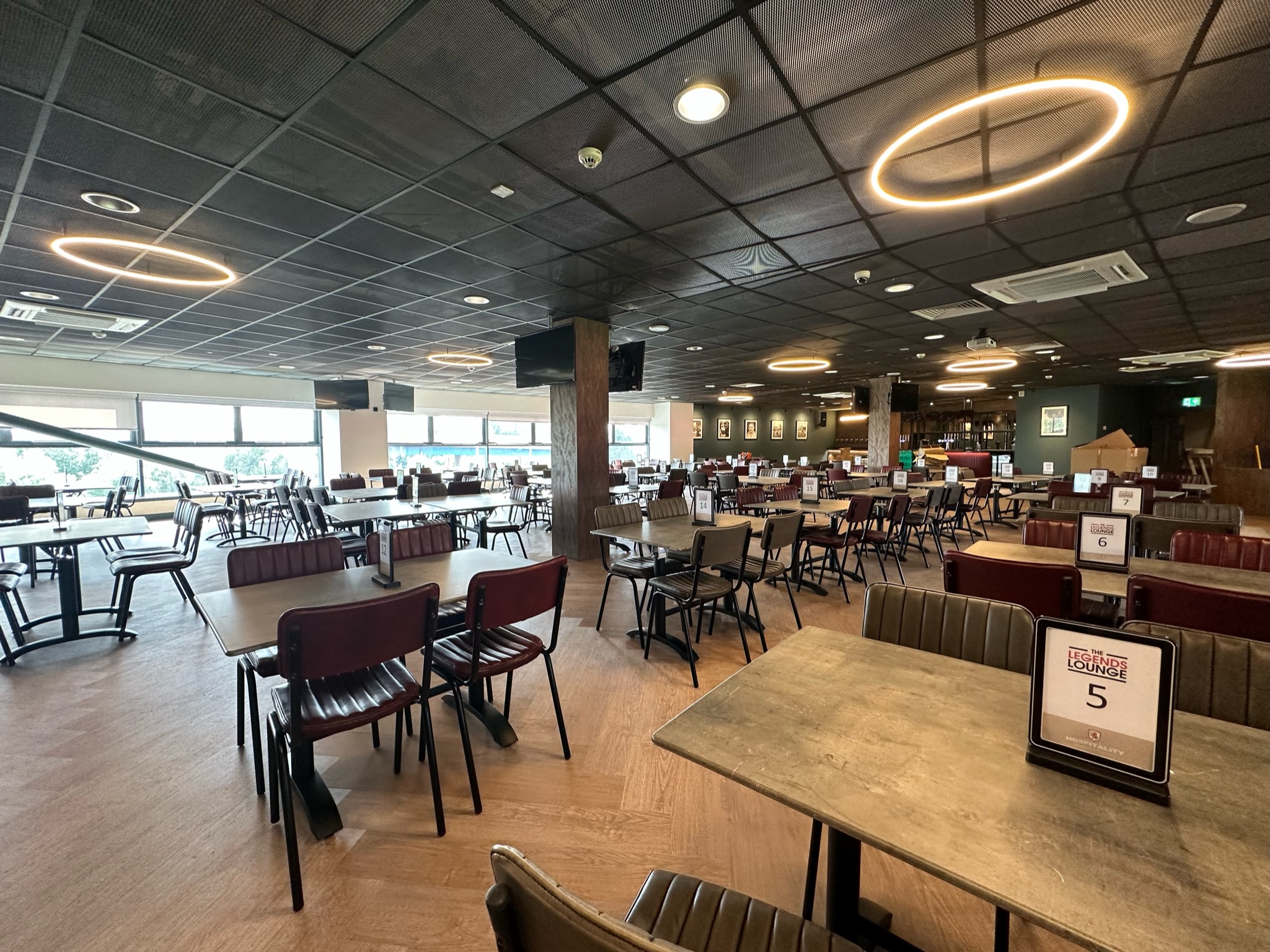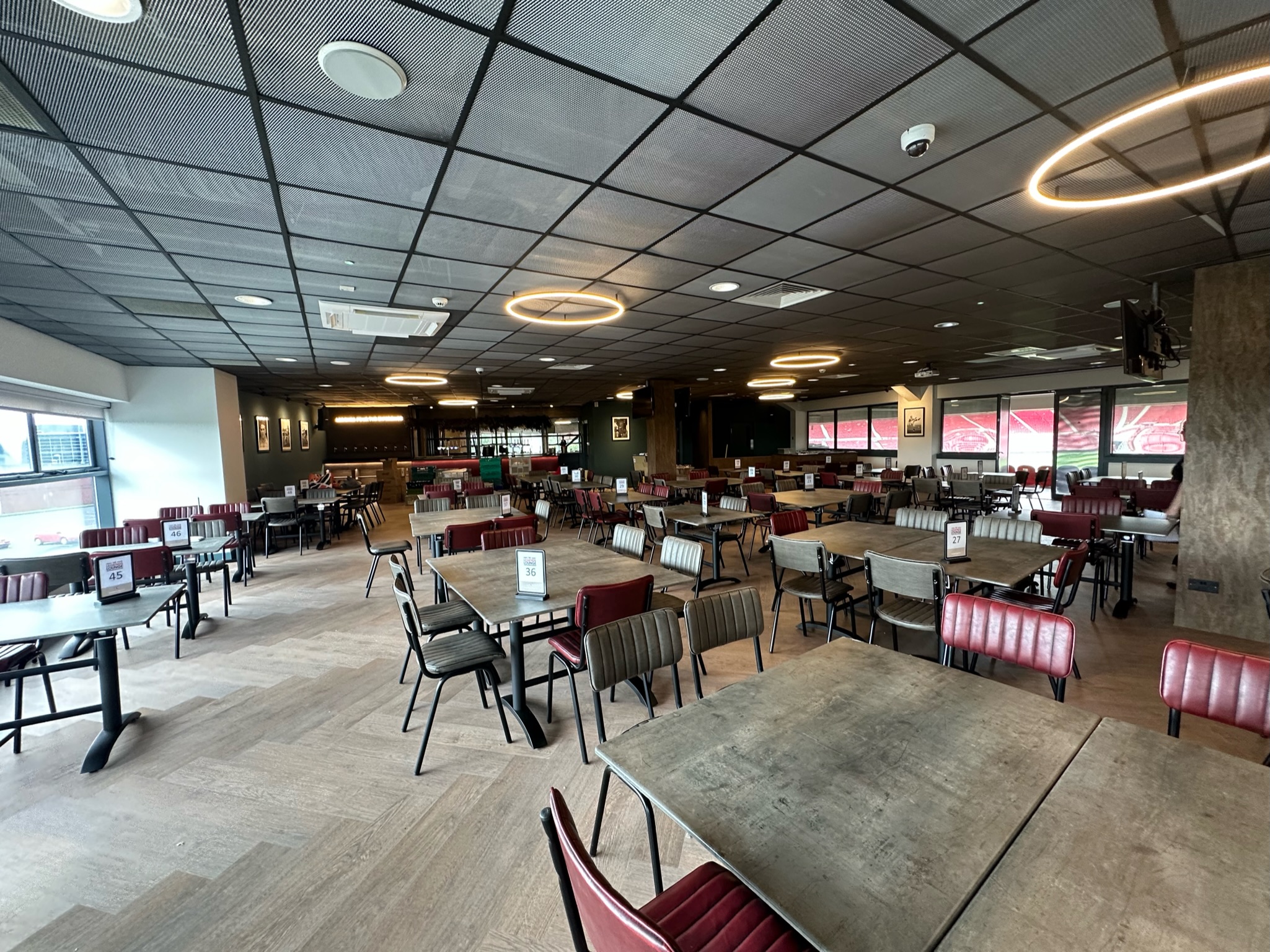 Swipe to scroll through the images.
Styled Interior Design was entrusted with the task of reinventing the Legends Lounge at Middlesbrough Football Club. The primary objective was to create an exciting space, with links to industrial haven that would captivate match-day excitement while maintaining flexibility for various events. The lounge was meticulously crafted to cater to football enthusiasts, aged 25 to 55, who sought a relaxed atmosphere combined with an industrial business vibe.
Design Concept
The design concept for the Legends Lounge revolved around the fusion of industrial aesthetics and the region's steelwork legacy. The aim was to create an ambiance that blended an industrial business vibe with casual relaxation. Incorporating elements like steel mesh ceiling tiles, rust-effect finishes, concrete-style table tops, and subdued red tones that subtly echoed the club's colours. The space was intended to evoke camaraderie among visitors while providing a memorable experience.
Key Design Elements
Flexibility and Functionality: The design focused on adaptability, accommodating interactive elements like self-serve beer taps and movable food stations. This allowed the lounge to cater to both game days and non-match events, enhancing its functionality and appeal.
Industrial Charm: The design blueprint embraced Teesside's industrial legacy, infusing the space with steel-inspired motifs and rugged finishes. The suspended ceiling was expanded to incorporate metal grate ceiling tiles, enhancing the industrial look while serving practical purposes.
Custom Self-Serve Bar: A standout feature was the creation of a custom self-serve bar, which became the central focal point of the lounge. The bar area was illuminated with custom LED lighting, adding visual allure and accentuating its significance.
Luxury Vinyl Tile Flooring: Luxury Vinyl Tile (LVT) flooring was introduced to add sophistication to the space. The flooring complemented the industrial theme while providing an elegant underfoot experience.
Purpose-Built Kitchenette and Serving Area: To enhance functionality, a purpose-built kitchenette and serving area were integrated. These additions streamlined food and beverage service, contributing to a seamless guest experience.
Custom Media Wall: A custom media wall equipped with modern technology was integrated, aligning with the lounge's entertainment aspect.
The project presented challenges in terms of time constraints, given the impending football fixtures and concerts. Additionally, the room's shape and central pillars required strategic planning to accommodate various design elements and ensure optimal capacity.
Styled Interior Design effectively addressed these challenges through meticulous planning and execution. The team's attention to detail, innovative problem-solving, and ability to work within tight timelines ensured the successful completion of the project.
End Result
The Legends Lounge is now a captivating space that marries industrial charm with modern functionality. Styled Interior Design's adeptness in weaving industrial aesthetics into a versatile and engaging space has reimagined the Legends Lounge as a dynamic setting, poised to host unforgettable moments for visitors, be it during match days or special events.
🔨 Construction completed by WOODSmith Construction Group.
⚽️ Book hospitality at Middlesbrough Football Club.