When it comes to our homes, interior design is completely subjective.
But did you know your home décor can help improve your mental health?
After the past few years, it's fair to say that modern life has taken its toll on a lot of us!
Feeling isolated, lonely or even anxious about life can affect your mental health, which is why its so important to find ways to improve it wherever possible.
April marks Stress Awareness Month here in the UK and with Brits spending an estimated 92% of their time indoors, it's important to consider your interiors to ensure they are having a positive effect on yourself – or your residents.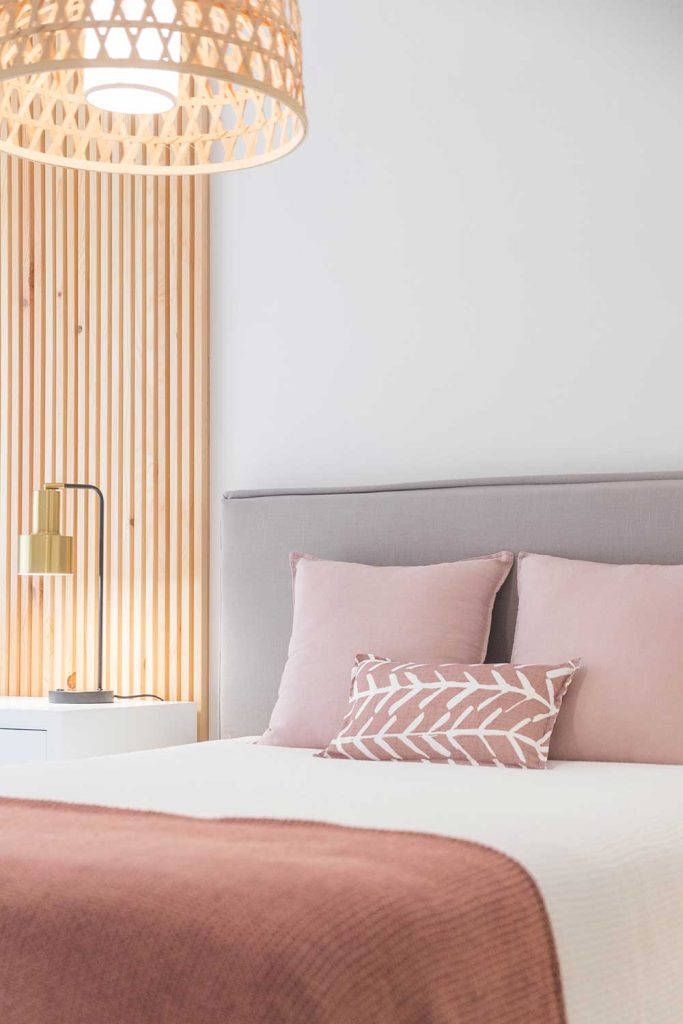 1. Introduce Nature
Incorporating plants into our home is an easy way to establish a link with nature, which is especially important for those of us spending a lot of our time indoors.
Long working hours and the oh-so reliable British weather can lead to us spending more than 8 hours a day indoors.
Introducing biophilic design has a direct effect on improving your mood and wellbeing, as well as helping to reduce stress and anxiety.
As a matter of fact, they can also help boost our cognitive ability, which is why they are a great addition to your office or workplace!
2. Less is More
Minimalism in design is, put simply, the concept of less is more.
This is particularly key when designing for accommodation properties, where many different groups of people will be crossing the threshold from time to time.
There are several benefits to creating a more minimalist home, the first of which being its easier to maintain.
Put simply, if you have less items on show, it allows the eye to rest much easier, creating a calming and peaceful atmosphere.
It also means every piece of furniture in your space has a purpose, which can help ensure your design is timeless and much easier to manage on a budget.
3. Let the Light In
Going back to our initial point of bringing nature into your home, natural light is one of the best ways to improve our mental health.
Allowing natural light to flow through your space is an instant mood-booster, making the space feel brighter and bigger.
When designing properties, ensuring you are maximising the amount of natural light into the space is vital. You can achieve this through incorporating skylights, bifold doors or balconies.
For tighter budgets or properties not undergoing any structural work, simply using clever furniture placement to prevent any natural light being blocked can achieve a similar result.
4. Colours are Key
Colour psychology is an important part of any design process!
Certain colours have certain effects on our mood and how we feel when facing it.
For example, some colours such as red or even blue can make us feel angry or sad, while on the flip side some colours can evoke feelings of happiness and comfort.
Neutral and muted colours are a great go-to, especially when being used on larger areas such as walls and ceilings. They lend themselves well to a minimalist décor, too!
If you enjoy a bit more colour, shades of green and soft blues work well to add another layer of nature to your space. Or, you can always add in other colours through your accessories – just make sure they don't distract too much from the atmosphere you are aiming for.
Deciding which colours to use can be difficult, so if you're struggling it's best to speak to an interior designer for the best advice on how to incorporate it in your home.
5. The Finishing Touches
Despite everything else, all most of us want is a beautiful home that we can retreat to at the end of the day, which means investing in those all-important extra details that can take your interior to the next level.
Whilst you can achieve a full design on any budget, opting for cheaper furniture that lacks style and comfort simply to save a few pennies won't help you in the long run.
It can leave a sour taste in you and your resident's mouths and certainly won't help to improve anyone's mental health with all the added stress it can cause!
Opting for quality, sturdy furniture that also looks good will provide you or your resident's the perfect place to unwind after a long, hard day at work.
Achieving that perfect look while working to a budget can be tricky. Choosing to work with an interior designer can be really helpful with achieving your desired look – as well as ensuring you or your residents have a safe and happy space to return home to at the end of the day.
Follow us on Instagram and Facebook for more tips and inspiration!
If you're interested to find out how our interior design services could work for you or your business, get in touch today.