May 13th is World Cocktail Day and at Styled, we'll be celebrating with a Cosmo or two.
But if going out-out isn't your scene, why not bring the party to your house with a home bar?
From a cool, minimalist design to something quirky and fun, we've got all the ideas you'll need to turn your home bar dreams into a reality.
So, whether you want a full-size bar in the basement, a kitchen cupboard that transforms into a drink-making station, or a table in the garden shed, read on to discover how to achieve it…
RELATED: WOULD YOU LIKE AN INTERIOR MAKEOVER WORTH £3500?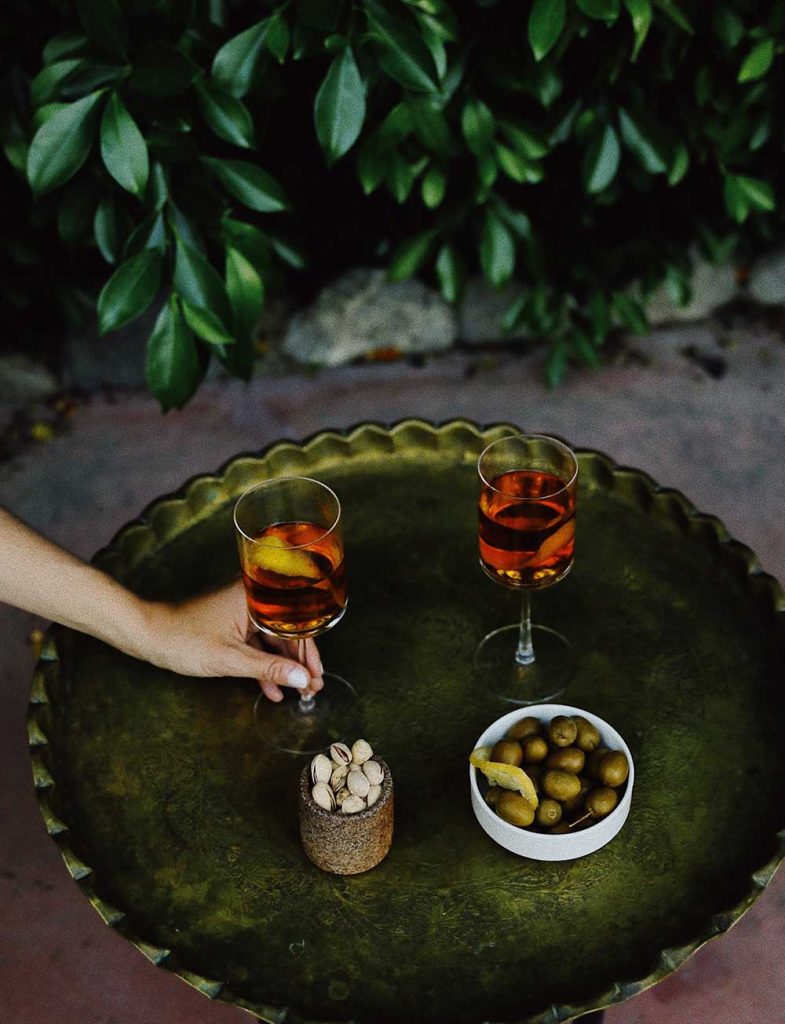 It's all about the angles
Let's start with the basics, positioning.
If you plan on entertaining guests, you'll want an area big enough to accommodate everyone. A bar that fits into a corner is ideal; it doesn't take up all the available floor space, while still being big enough for everyone to fit around. And rather than having two straight sides, why not try a hexagonal shape? This will provide that all-important surface for your guests to lean on.
It's a great idea to mix up the levels too. If you're behind the bar mixing drinks, you'll want the surface to be at a height you can comfortably work at, but when you are on the other side, a slightly taller bar table will work better for standing and socialising.
Choose a beautiful surface
This is the most visible and hard-working part of your bar, so make sure you've given it some thought.
Marble and granite are your best options as they will still look great in years to come. If you are going for a more traditional look, opt for dark wood with a beautiful grain to it, but ensure it's been treated correctly to avoid watermarks.
For a more modern take, why not try stainless steel? It's almost indestructible and so easy to keep clean – just watch out if you're planning on a garden bar as it might get a little cold!
Seriously good seating
Having a comfy place to rest and relax is a key part of any bar, so choose comfortable seating. You could try padded, high-backed chairs or, if you have a smaller budget, a simple stool will do the trick.
Top tip: match it to your countertop for some seriously cool vibes and your biggest issue will be getting guests to leave.
Keep it cool
Nobody likes a warm drink, and you don't want to be running back and forth to the kitchen, so keep the temperature down with mini-fridges and a freezer for ice.
A mini-fridge is ideal as they are big enough to hold multiple bottles, while also having space for those citrus fruits that make a good cocktail great. You could consider an ice maker if the budget allows, but if not, simple moulds will do – just remember to keep it stocked up. We'll have a Tom Collins on the rocks, please!
Pick your poison
Style is one thing, but you'll also need to make sure your home bar has all the drinks, ingredients and equipment you might need. Think about how you will display the drinks bottles; on the back of the bar against a wall, or as a display on shelving? Don't forget to factor in storage space for things like a cocktail shaker, bitters, measuring cups and stirrers too.
Clink your glasses
It's a key part of any bar – glassware.
Depending on how many people you are planning on entertaining, you may need to account for cupboard space for glasses. And if you're going to be serving different types of beverages, you'll need the glassware to match.
Not sure where to start? We recommend classically shaped wine glasses, tall stemmed cocktail glasses and whisky tumblers, too.
Level-up your lighting
One of the most important aspects of any interior design is lighting; it can make the difference between cold and uncomfortable, or cosy and inviting.
Combine classic pendant lights that hang over the bar with recessed lighting under the wall and floor cupboards to create an environment you'll love to spend time in. Going for odd numbers works best above a bar, so pick 1, 3, or 5 low pendants that match the rest of your interiors. Dark copper and metal shades work well for traditional styles, while black, grey or glass are great for modern, minimalist designs.
Decorate your walls
To bring the whole home bar design together, don't forget your walls. Mirrors, artwork and shelving can all work together to create a cohesive style and add extra interest at all levels, from floor to ceiling. You could install a full-length mirror to give the impression of added space and light or paint a chalkboard wall and write your personalised drinks menu on it.
If you're interested in finding out how our design services could help bring your visions to life, get in touch today.
For more tips on interior design, head to our Instagram and Facebook pages.