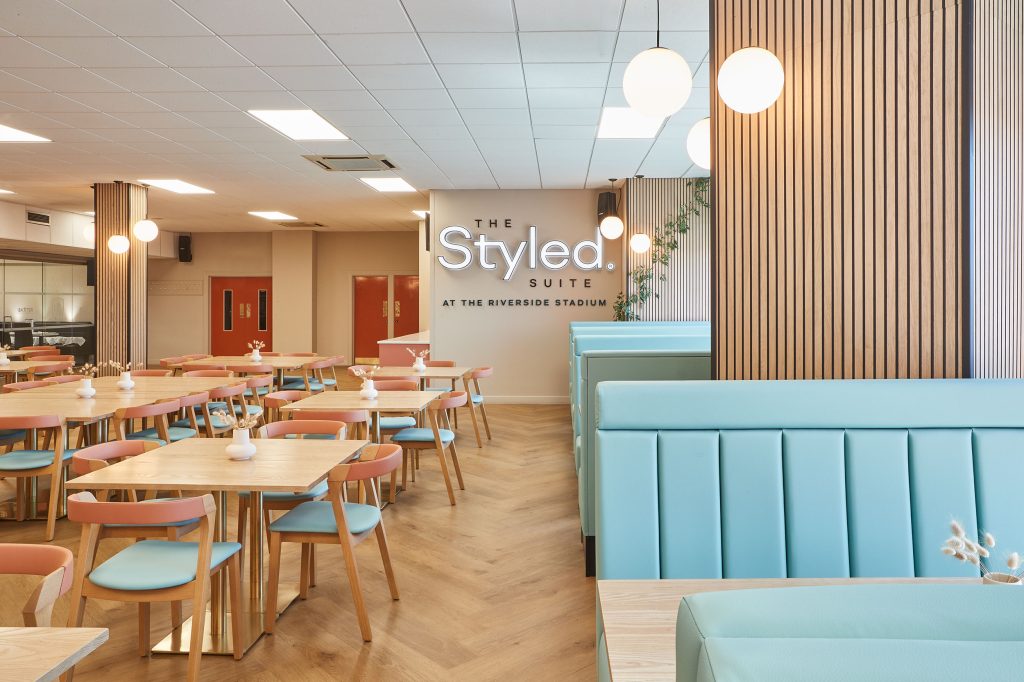 Out with the old
The Riverside suite at Middlesborough Football Club has served many a supporter over the years, but it was time to give it a new lease of life. The aim of the project was to create an appealing and multi-purpose space for all to enjoy and encourage private events such as wedding receptions and baby showers, as well as the usual matchday hospitality.
Originally, the room was quite dark, having not been updated for several years. It had little design consideration and was heavily branded, which was fine for match days but did little to appeal to events outside of football.
Our goal was to create a space that is adaptable to a range of different events that will help bring in new streams of revenue for the football club. The space needed a complete redesign to take it from being an overcrowded, dated and run-down function room, to a modern multifunctional events space with a warm and vibrant atmosphere – a room which would overhaul Middlesbrough's current hospitality offering and make it a top choice for functions on Teesside.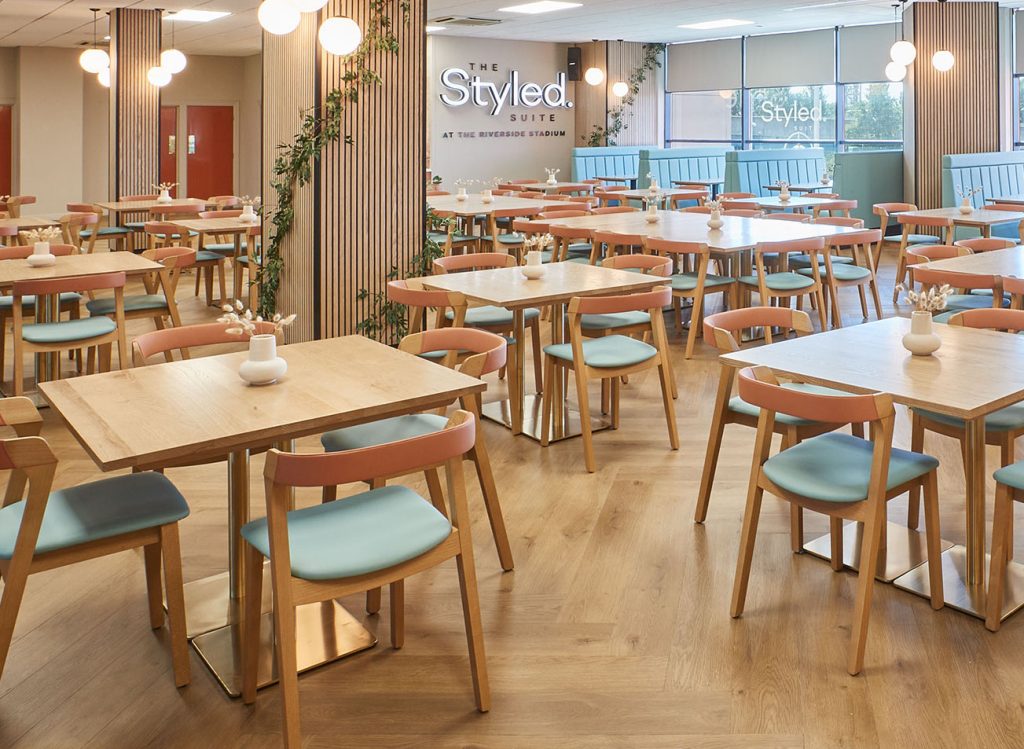 In with the new
The works, which were completed by WOODSmith Construction Group, began by replacing the floor with a hardwearing and on-trend herringbone effect LVT (Luxury Vinyl Tile) throughout the main suite and accompanying boxes. The colour palette was switched from dark reds and stark whites to lighter shades consisting of warm greige, seafoam blue and leafy green. However, as the space is still primarily used for match days, the team introduced a more subtle nod to the club's branding by adding accents of a soft red-terracotta shade throughout the backrests in the chairs, wall murals and custom cabinetry for the serving area.
Modern oak cladding was used to add depth and interest to a new bar and throughout the suite. The bar itself was completely redesigned, and further enhanced by custom-built brass shelving for drinks and glassware, a bronzed mirrored wall and marble worktops. Pendant lighting at various heights provides a warm and cosy atmosphere.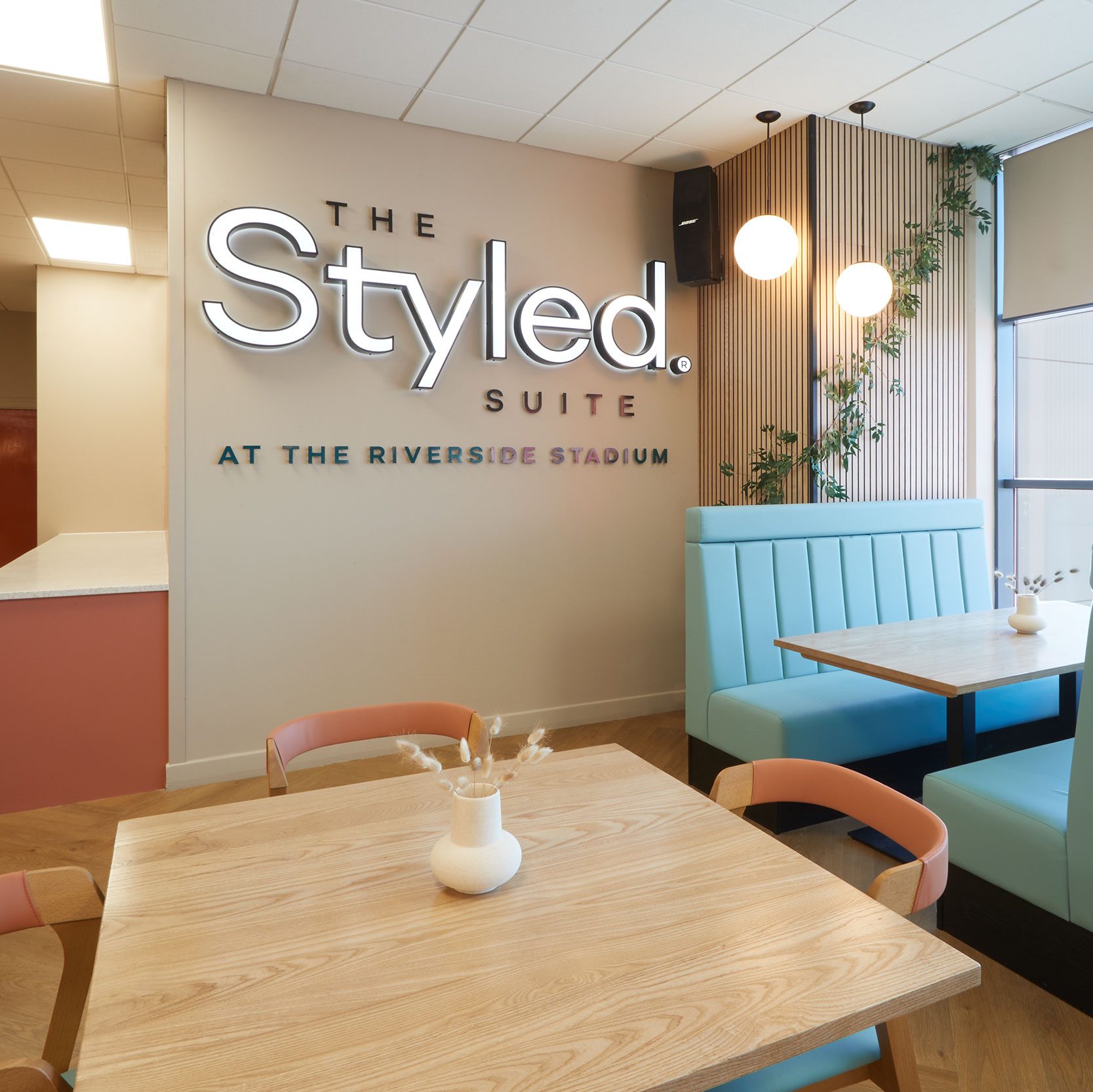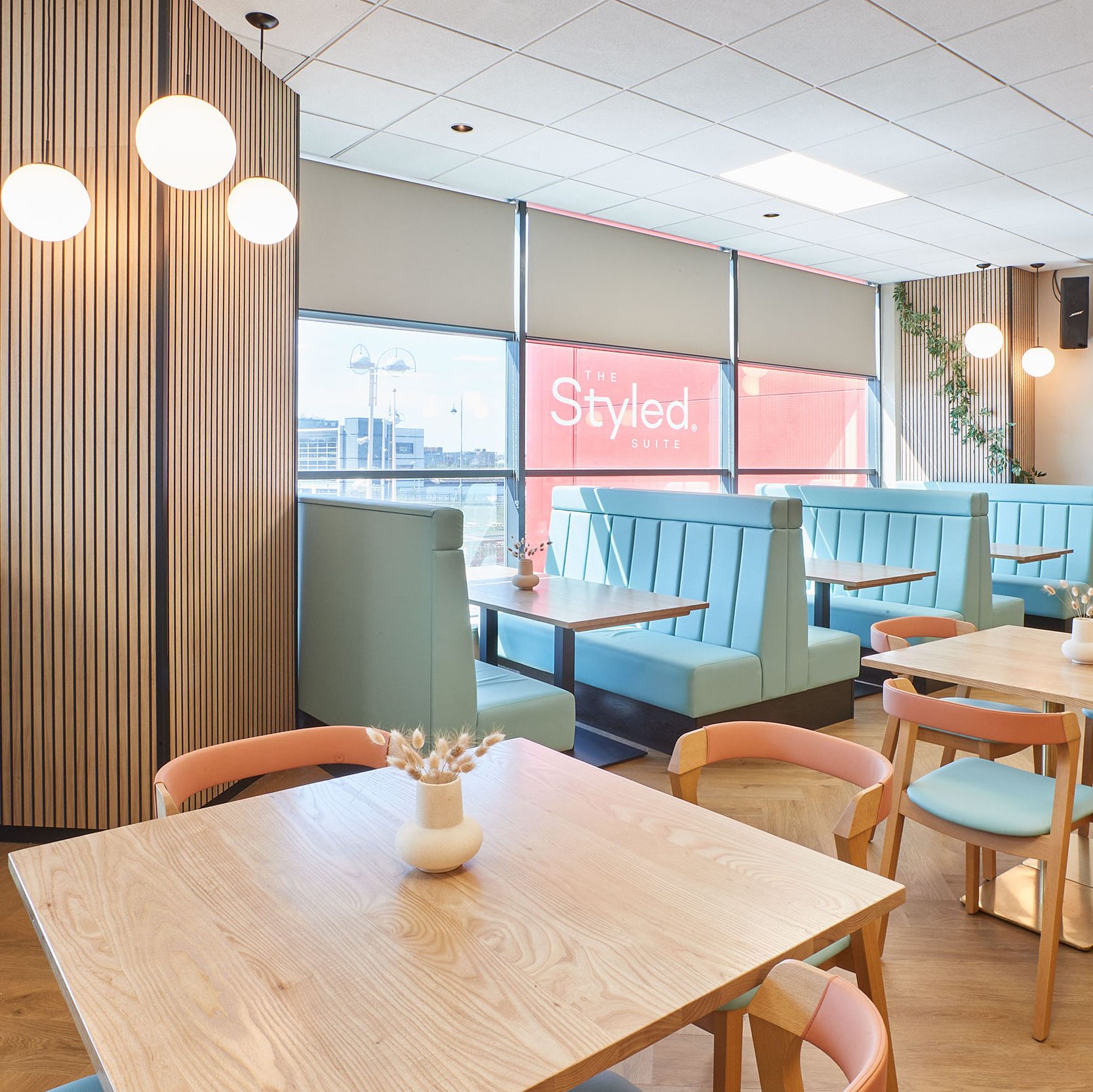 When designing a space, one of the main considerations was how it will be used. The most significant problem with the old suite was the lack of space when at full capacity. To solve this, we decided to use a variety of table sizes to help maximise the area available. Bespoke booth seating was also built into the large windows which offered the club a premium seating option for their hospitality guests, whilst also being a great space-saving solution!
The project had an incredibly tight deadline, just eight weeks from start to finish, so the pressure was on to complete it in time. To achieve the redesign within the timeframe, our team worked with local companies and subcontractors for the works, including everything from decorating, bespoke joinery, the new bar area and the furniture.
As part of The SDDE Smith Group, a huge part of Styled's business is helping to create better places to work, live and stay, which is why choosing local companies for this project was a fantastic way to reflect this aspect of the business.
The new Riverside Suite is modern and bright and now available for anyone to host a party or event in style. To see how Styled can help with your design project, call 01287 348 311 or visit www.styledinteriordesign.co.uk